Hubby was out of town last weekend & I had coupons for Old Navy, Gap & had heard Ann Taylor LOFT was having 40% off all their sale items. I also needed new tinted moisturizer & mascara and maybe eye product from Laura Mericer so off to the mall I went.
First stop was Old Navy where I returned this kacki jacket I'd bought last week & repurchased it using the 20% off coupon I had. So I started out the day spending negative $6.
The Laura Mericer counter was actually having a national event Saturday so I had full makeup done. They did a smoky eye with golden green eyeshadow. Very different for me, but I loved it. So with more money than I will mention spent, I left with a lot of new makeup & tips on how to use it!
Next stop, Ann Taylor LOFT where I bought two top that aren't on their website. One is sleeveless & pinkish/purple & a little ruffly & V neck. It'll be perfect for work this spring/summer. The other is more of a dressy T-shirt. Its light purple & has a sparkly flower on the right side. I think it'll be great for weekend when you want to look cute running errands, out to lunch, at the beach etc, but still be comfortable. Both shirts were right around $20. 🙂
Sunday after church I went back to the mall. I wanted to check out the new H&M (really big & good looking stuff but I didnt see anything I couldn't live without) & also see if Gap had anything worth spending my $10 off & also 30% off coupons. I thought this polo was too cute & loved the color. After $10 off, it was only $14!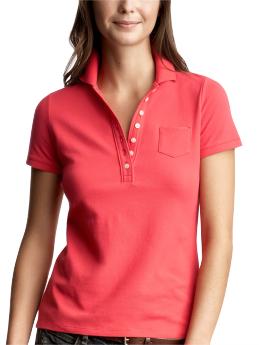 With the 30% off full price I found this basic white cardigan (on sale for $39 then after coupon $24!) that I thought would be great over dresses for work or with a scarf & dress pants.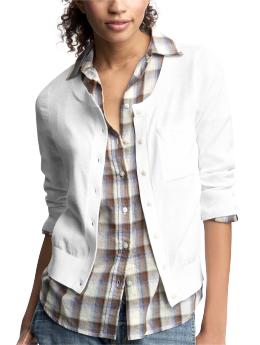 I used the 15% off sale items to buy this dress (only $21) which I wore to work yesterday & received compliements on (even from my husband who doesn't always notice what I'm wearing!) I thought I'd wear the dress again on Saturday before the wedding while we're getting ready & getting our hair done.
Anyone else shop over the weekend? What's been your favorite new outfits for spring/summer?